Making Art Monthly with the Guild
 For Members Only
Small Works
Small Works Art Challenge: this challenge is for artwork no larger than 8″ x 10″ for two-dimensional works such as drawings, paintings or photos. 3D pieces such as sculptures should be no larger 8″ wide, 8″ deep and 10″ high.
By participating in, and entering original artwork into the 'Small Works" monthly challenge, each artist agrees to give the Coastal Arts Guild of CT permission to use images for fundraising, including being printed on merchandise in our Zazzle shop. The copyright and ownership of the work remains with each artist.
At the end of 2017, the Small Works finalists created by our members will be displayed in a show, location to be determined.
The entry fee for the end-of-year show will be $20.00, due two weeks before the show is hung.
Please note: this will be the last Small Works challenge before our holiday party and show. We will be announcing details soon.
If you were a finalist in any of the previous Small Works challenges, we will be contacting you with details of where you can drop your work off to be in the show. If you want those details sooner, contact info@coastalartsguildct.com.
All mediums allowed: ceramic tile, glass tile, paper, polymer clay, etc. And of course your creativity!
A new art challenge will be announced for 2018! Stay tuned.
---
Announced Themes
"Piecing It All Together"
SPECIAL ANNOUNCEMENT
Since the first Tuesday of this November is Election Day, and we never want to make our members have to choose between coming to our meeting and casting their votes, we will be holding the meeting on Tuesday, November 14.
The October-November Small Works challenge is "Mosaics."
Meeting Location: Sterling House Community Center
2283 Main Street, Stratford, CT
Meeting date: Tuesday, November 14, 2017
Meeting time: 7:00 – 9:00 PM
Guild members can work in any media but your entry must be no larger than 8″ x 10″ and hangable or otherwise ready for display.
Bring your completed small works to the November meeting for judging. At the end of 2017, the finalists, chosen by the judges will be displayed in a show, location to be announced. Images of the works will also be used for fundraising, including being printed on merchandise in our Zazzle shop.
Anyone can bring a Small Work piece but only Guild members are eligible to have their work judged and considered for the end-of-year show.
The membership form for CAGCT can be found here.
Details about our next art challenge for 2018 will be announced at the holiday show and party.
Also, if you're working on any new work you'd like to share, please bring it along. That includes visual, spoken word, anything that's an art.
See you on November 14th!
---
The Process and the Results
Coming soon, the making art results for the Black & White challenge.
Click here to see the entries from prior ACEO card challenges.
---
Many of these images are on customizable products in our Zazzle shop.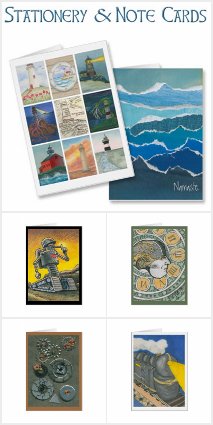 If you love to send notes, invitations, and cards to say thank you and hello, and you love original art, add these to your stationary drawer. Card featuring original art by the guild members of the Coastal Arts Guild of CT.
---
Valerie Riveras Rhodes Landscape Challenge Printed Shoes
Here's a great pair of sneakers with Valerie Riveras Rhodes' entry from the Landscape challenge on them featuring rolling hills.
To join in, become a member and come to our meetings.
Submit any questions you have here. Thanks!