Making Art Monthly with the Guild
For Members Only
Monthly Art Challenge
2018 starts a new art challenge.
The new challenges will feature a medium and a theme How you interpret these is up to you.
---
Announced Themes
"Don't Forget, Pencil This In"
The March Art challenge is in 2 parts:
Medium: Pencils
Theme: Memories
Meeting Location: Sterling House Community Center
2283 Main Street, Stratford, CT
Meeting date: Tuesday, March 6, 2018
Meeting time: 7:00 – 9:00 PM
Anyone can bring an art challenge piece but only Guild members are eligible to have their work judged and considered for the end-of-year show.
The membership form for CAGCT can be found here.
Also, if you're working on any new work you'd like to share, please bring it along. That includes visual, spoken word, anything that's an art.
---
Click here to see the entries from prior ACEO card challenges.
---
Many of these images are on customizable products in our Zazzle shop.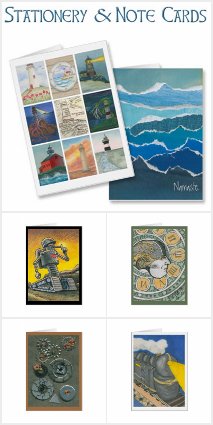 If you love to send notes, invitations, and cards to say thank you and hello, and you love original art, add these to your stationary drawer. Card featuring original art by the guild members of the Coastal Arts Guild of CT.
---
Valerie Riveras Rhodes Landscape Challenge Printed Shoes
Here's a great pair of sneakers with Valerie Riveras Rhodes' entry from the Landscape challenge on them featuring rolling hills.
To join in, become a member and come to our meetings.
Submit any questions you have here. Thanks!